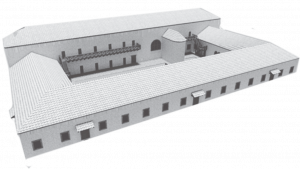 The thermal spas in Ilidža, in the Sarajevo plain, were planned during the emperor Marcus Aurelius (161-180), after a large number of military veterans got land in the area. The stay of veterans, but also of the wounded, determined the original purpose of these Roman thermal spas, which were also a public bathing site.
The thermal spas in Ilidža were the spa resort of municipal level, and they were located on the important communication of Via Argentaria – Narona, that is, the communication linking the Podunavlje and Upper Podrinje with the Adriatic coast. According to the incomplete record found on archaeological stone remains, the village was called "AquaeS…", and it is assumed that it was named "Aquaurum Sulfur or Sulfuratae" (sulphur bath).
They had their urban peak during third and fourth century. Apollo Tadenus was the deity of spas and archery, and there were two portraits dedicated to Apollo, beside the altar. There are indications that there was also a temple dedicated to Apollo Tadenus.
You may also like this